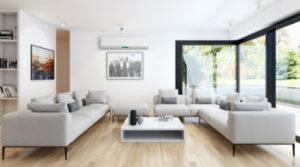 Are you enjoying the beautiful Brisbane winter as much as we are? What's not to love about the clear blue skies during the day and the cool nights, which make sleeping so much more comfortable? Sometimes, however, the drop in temperature at night has people reaching for the winter woolies or even a portable heater. That's when a reverse cycle air conditioning system comes into its own! So what is reverse cycle air conditioning and why should you consider installing it?
Basically, a reverse cycle air conditioner warms your home or office in the winter and keeps it wonderfully cool in the summer. It's one of the most energy-efficient ways of heating your home, far more so than a portable heater. That's because it doesn't 'create' heat energy but draw heat in from outside and distributes it around the living space. And with a flick of switch when you want cool air in the summer, it draws the heat from the room and expels it outside meaning it's just perfect for our Brisbane climate!
So what other benefits can your expect from a reverse cycle air conditioning system?
They can adapt to the requirements of the room
Some reverse cycle air conditioning systems use inverter technology which means they are able to detect and adapt to the conditions in the room. This means they can gently increase or decrease the power to help the room reach the desired temperature in the most efficient way possible.
The can help to purify the air
You may not be aware that some models even have a built-in air purifying filter to capture small airborne particles like dust and smoke. Some can even help get rid of odours in the room and help to keep your home or office free of bacteria. This is particularly useful for anyone suffering from allergies, hayfever or asthma.
They're environmentally-friendly
Some people are under the impression that air conditioning systems are bad for the environment. Not so! A reverse cycle air conditioning system generally produces just one third of the greenhouse gas emissions of standard electric heaters and those with a 5-star rating or above will only produce less than one fifth of the emissions of a standard electric heater.
They are quiet
Most manufacturers of modern split system reverse cycle air conditioning systems have invested in not only producing the most energy efficient systems but also the quietest. After all you don't want to be kept awake but a noisy air conditioning system.
Oh and did we mention that they're super energy-efficient?
Yes we know we've mentioned it a lot but the biggest benefit is that most modern reverse cycle air conditioners are extremely energy-efficient compared to other electrical heating and cooling methods.
Once you install a reverse cycle air conditioning system you won't look back. No more bulky, noisy fans or energy-guzzling portable heaters. And the best part is, if you install one now, you'll benefit from both the heating and cooling modes AND as we're in winter there is no waiting time for installation. Our Brisbane electricians are standing by to install a great air conditioning system for you today! So what are you waiting for? Give us a call on 0414 751 299 to get the best deal on a reverse cycle air conditioning system.
SUBSCRIBE TO OUR NEWSLETTER FOR REGULAR TIPS AND ADVICE: