Electric Oven Installation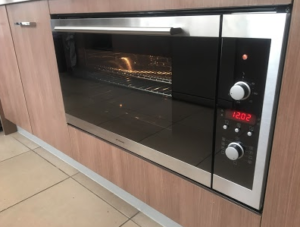 Looking for an electric oven installation? Look no further than the team at Unified Electrical.
Whether you are upgrading your kitchen or simply replacing some old appliances, you need a fully licensed and insured local electrician for electric oven installation or cooktop installation. If you have purchased a gas oven or cooktop you will also need a plumber to connect your appliances.
Built In Electric Ovens And Cooktops
We recently supplied and installed a brand new oven within the existing kitchen units. The old oven was disposed of through a metal recycler.
Built in ovens can be incorporated into the existing kitchen cabinetry or supplied and installed as part of a complete kitchen upgrade. With regards to the oven cooktop, this is usually a separate component that can be positioned in a different location in the kitchen if required.
Freestanding Electric Oven Installation
Freestanding electric ovens usually have both the oven and cooktop incorporated in a single unit and are positioned on the floor in the kitchen.
If you're putting in a new oven, it's always worth getting a professionally qualified electrician to undertake the work as we can check things like whether your existing kitchen appliances are protected by a safety switch and if need be, install one while we are there.
It's also worth being aware that upgrading from standard electrical cooktops to induction cooking elements sometimes also requires some power supply upgrades. 
Our team of electricians can do electric oven installation as well as cooktop installation.
The Unified Electrical team are licensed and insured electricians who receive specific training to carry out all the services needed to safely remove the old oven and install the new one.
We're always happy to provide a free quote to install your appliances so give Unified Electrical a call today for your next oven installation and removal of the old appliance.
We have electricians available in Campbelltown or Brisbane to install you new oven or cooktop.